Some things are so pervasive, so ubiquitous that we almost forget its origin story, that it was actually invented or designed by someone (fairly) recently.
Light filled rooms and open floor plans were unheard of until Frank Lloyd Wright in the early 1900s. Electric lights weren't a commonplace sight in homes until the 1930s. Personal computers didn't exist until the 1980s.
Heck, pizza delivery wasn't even a thing until the late 1980s when Domino's sought to wrest business away from Pizza Hut and raise awareness and dispel doubts with its Noid commercials. (Click here for a walk down memory lane.)
We all laugh now, but 30 years ago people were seriously hesitant to give delivered pizza a try because they were afraid the pizza would smell like cigarettes (if the driver smoked in the car) or that the pizza would end up being stuck to the top of the box and be ruined.
Which brings me back to Akari, a term meaning light as illumination, but also implying the idea of weightlessness, and name given by Isamu Noguchi to his "light sculpture" designs.
We've all seen these round fold-able lanterns at least once somewhere whether in a store or a restaurant or maybe even own one (I got mine from Ikea).
Have you ever stopped to question where they came from? I know I've always just written them off as evolving from traditional Chinese paper lanterns…Yet, this is what a traditional Chinese lantern looks like:
(Image source: Aliexpress)
As it turns out, Noguchi designed his first Akari light fixtures in 1951 after visiting the town of Gifu and being inspired by the lanterns used by fishermen illuminating the Nagara River at night. The original lamps were created from handmade washi paper and bamboo ribbing, supported by a metal frame.
Genuine Akari models are still made to this day and  have a stamped red sun and half moon with Japan written under the symbol on the shade. Next to the symbol will be the signature "I. Noguchi".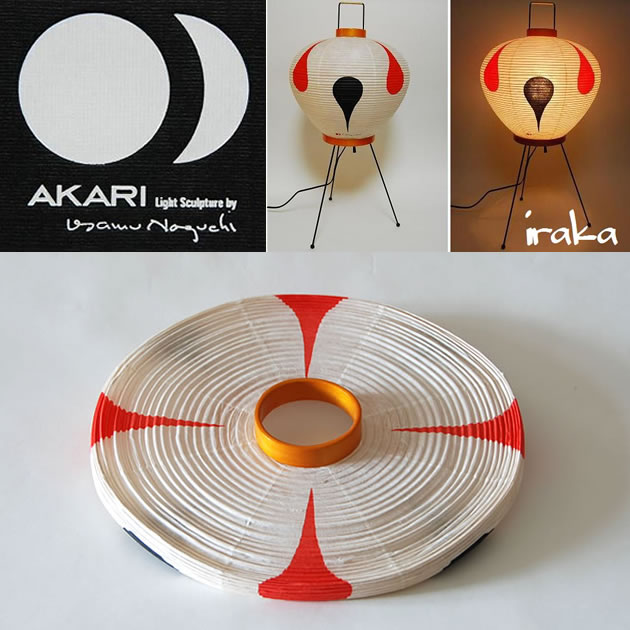 (Image source: Rakutan)
Though the round ones are the most prevalent, Noguchi designed Akari lamps in a variety of shapes and sizes.
Explicitly told no for the Venice Biennale in 1986 due being viewed as being too commercialized, Naguchi nonetheless exhibited Akari creations as he viewed them to be a synthesize of sculpture and light, which just happens to beautify the home as well.
The exhibition Akari: Sculpture by Other Means runs now until January 27, 2019 at the Noguchi Museum in NYC.